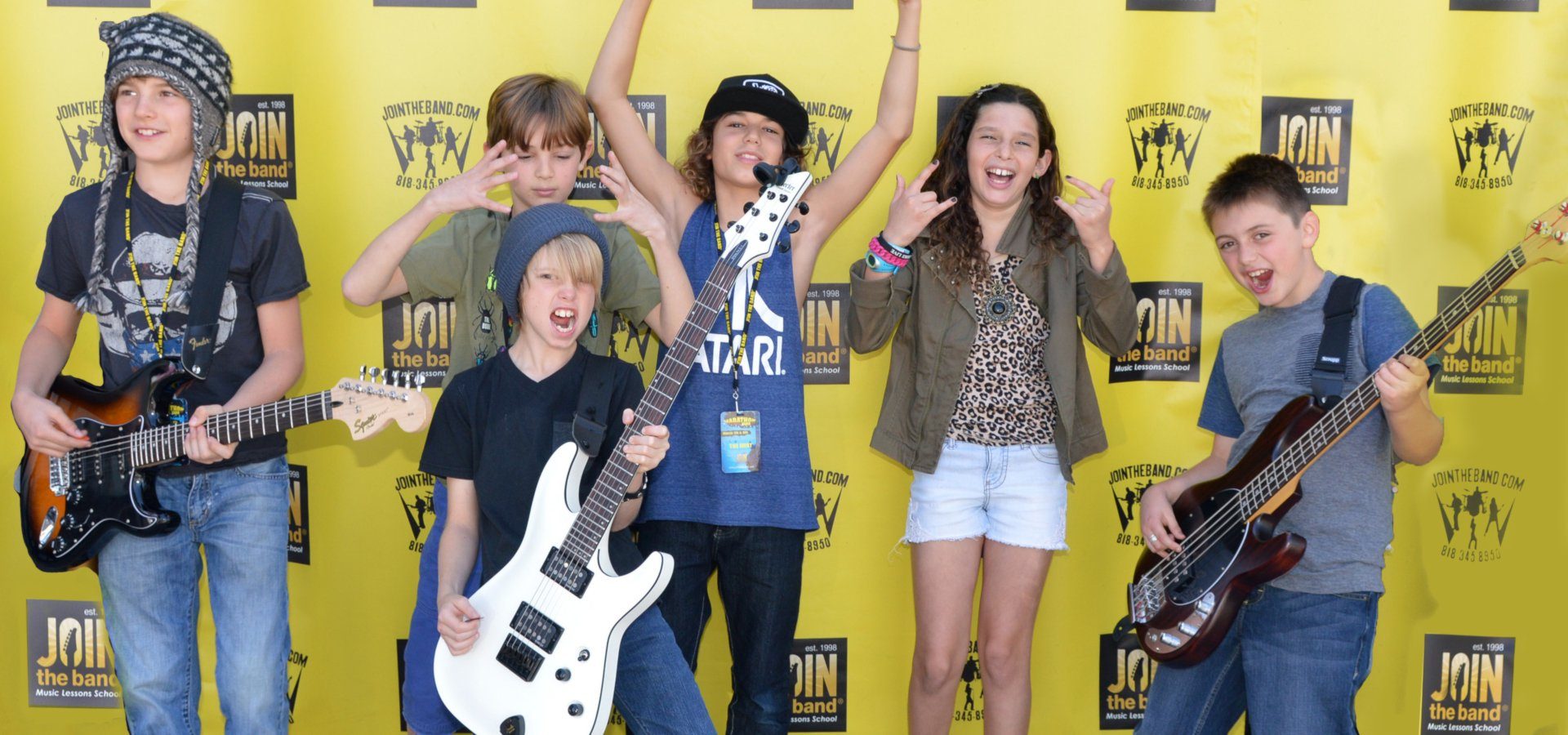 LEARN MORE
Music Lessons, Bands & Camps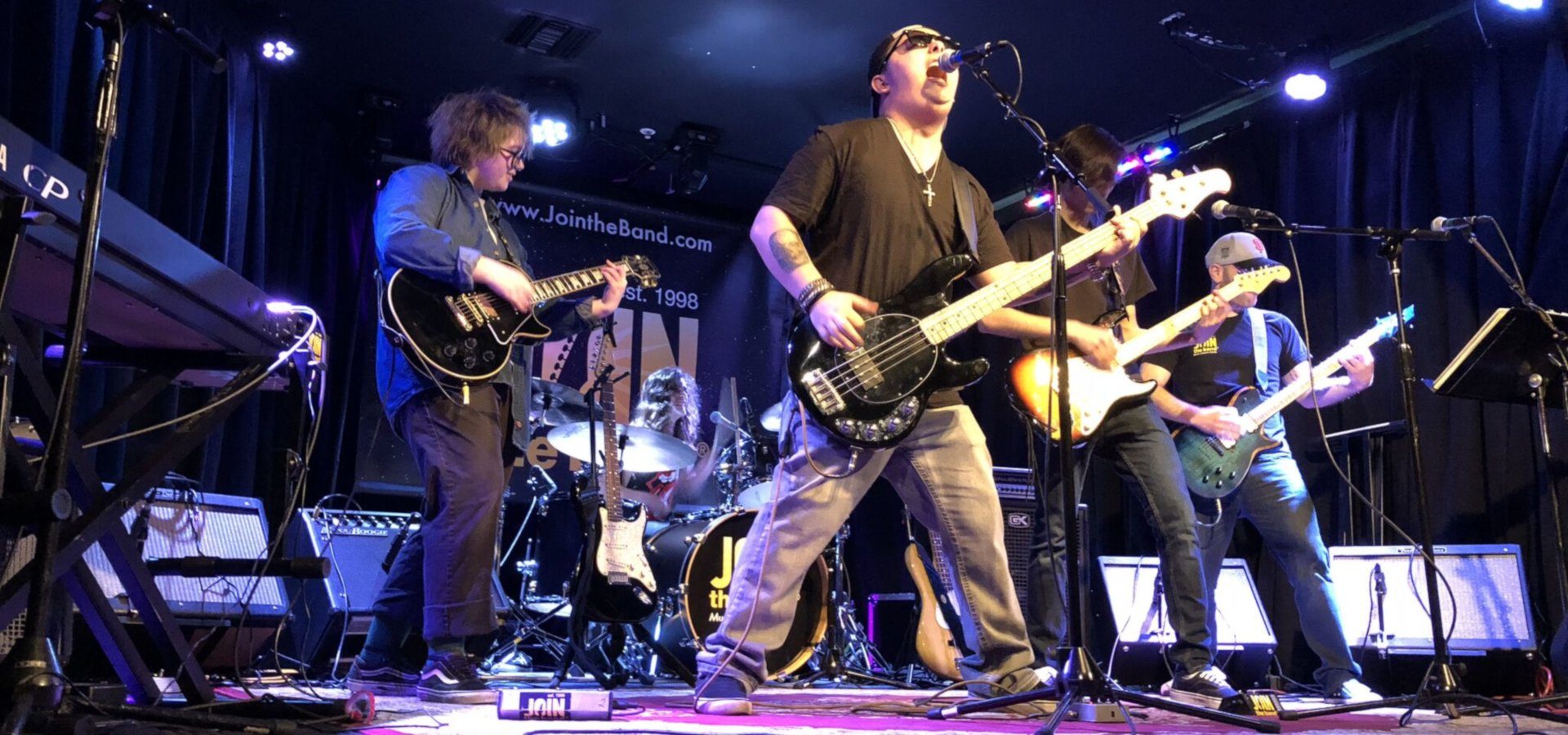 LEARN MORE
Lessons & Bands for Teens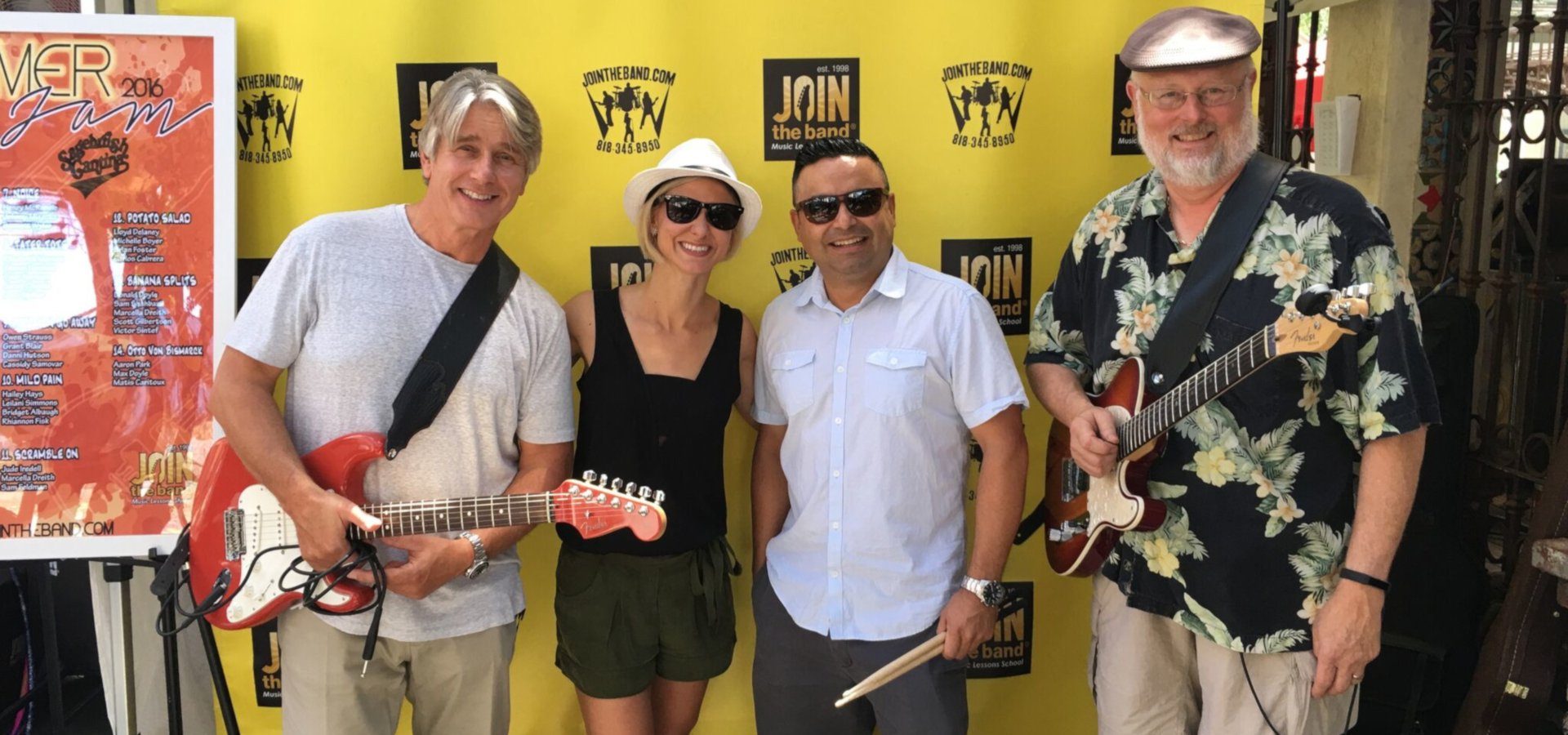 LEARN MORE
Lessons & Bands For Adults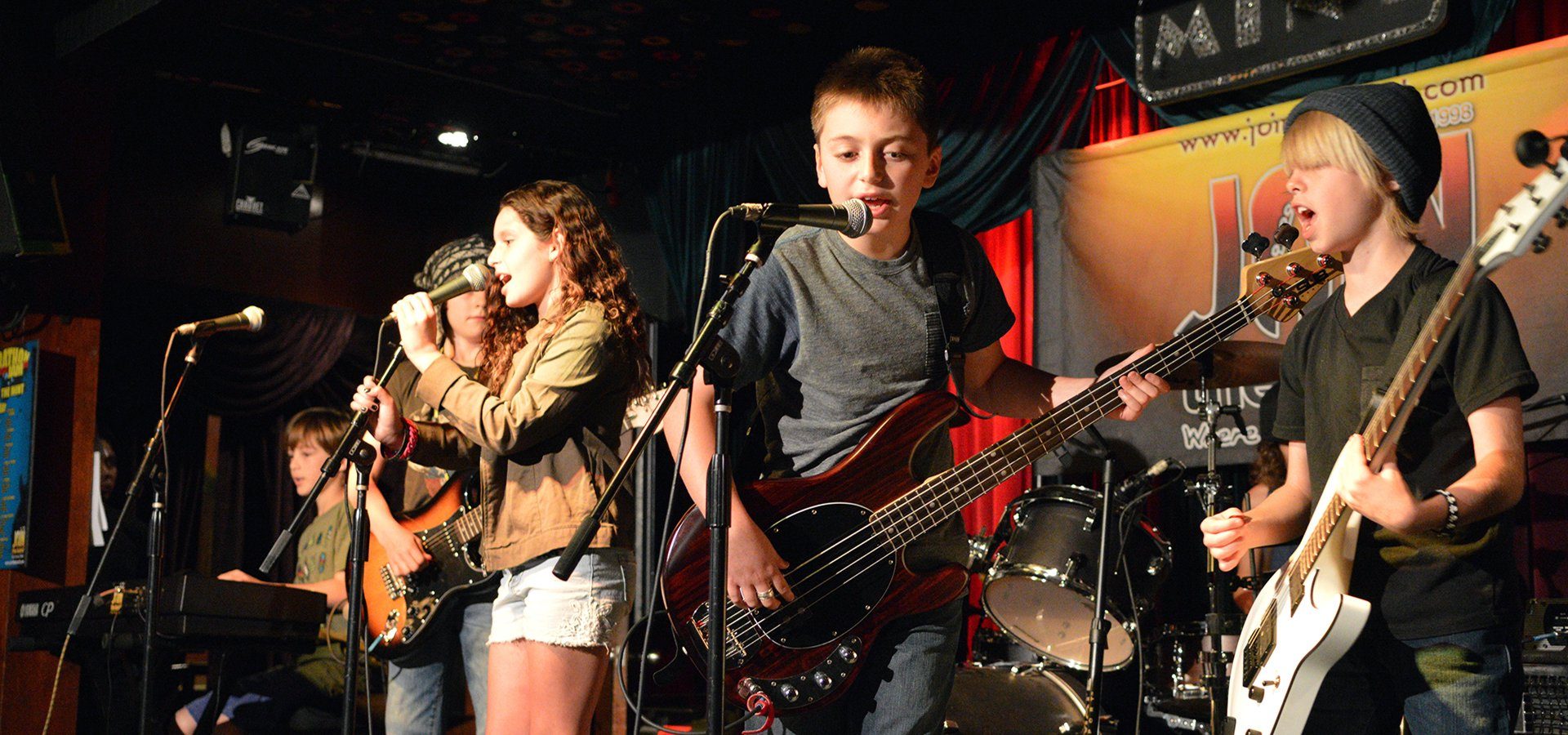 Play Music. Make Friends. Have a Blast.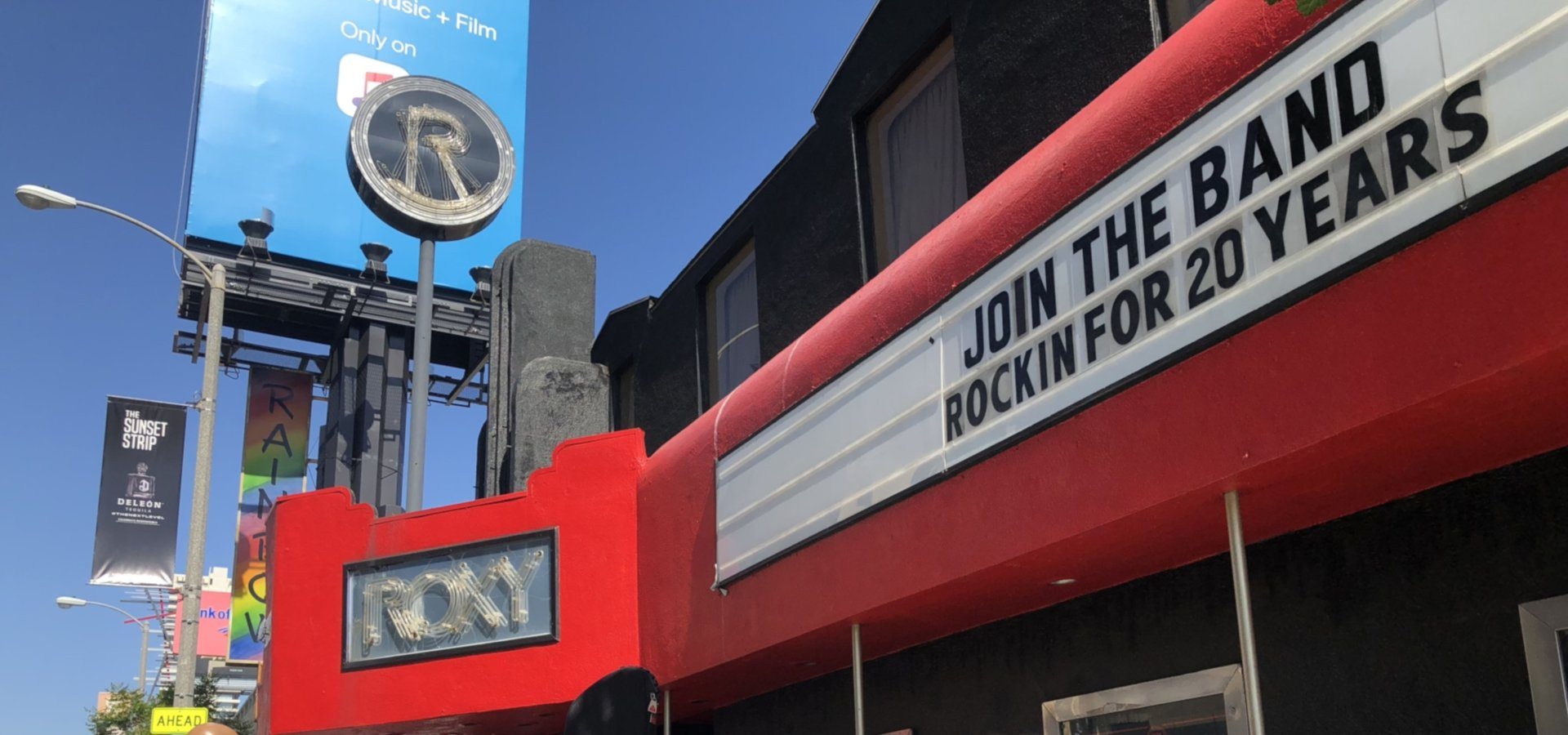 Play Music
Make Friends
Have a Blast!
Music Lessons & Band Classes  for All Ages! 
Guitar Lessons – Piano Lessons – Singing Lessons – Drum Lessons
Call Today!
Join The Band is the most reviewed music lesson studio in the
Los Angeles community of Sherman Oaks.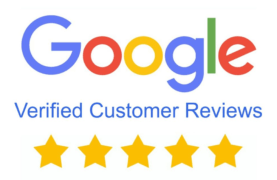 122 Reviews
 Music lessons, band classes and summer music camps  are what we do. Nobody likes to take boring, and uninspiring music lessons. This is why we make learning music fun at Join the Band!
At Join the Band, you can take music lessons on a variety of instruments including: guitar, piano, voice, drums, ukulele, bass, saxophone, and more.
We keep kids engaged by teaching music lessons and band classes in a fun and inspiring way.   
Are you new to music lessons?  We love teaching beginners and will tailor your lessons to meet your music goals.
If you have been playing for a while, our teachers can help you advance your current skills.
Band classes feature a variety of music styles. Including rock bands, blues bands, jazz bands, metal, country and more.  Because of this variety, our teachers can offer you a very diverse music lesson experience. 
Thousands of students have participated in our music lesson and band programs.
Music Lessons  – Kid Bands – Teen Bands  –  Adult Bands.
Call Today  818-345-8950  
What are Join The Band families are saying?
Scott Sutphen, Malibu father of 15 yr old bassist Sage
As soon as my daughter started this program, everything in her life changed. She became a better student and she became a better person. Her whole life changed when she joined this program.
2006 SUN COMMUNITY NEWS PAPERS.

My son has taken lessons and their band program over the last seven years, … Join the Band's quality instruction and the opportunity to perform at their amazing shows gives them confidence, collaboration skills, and a love of music that lasts a lifetime. …Their studio spaces are state of the art and their staff is always welcoming and efficient. I highly recommend!
I've been playing guitar for seven years, and Join The Band has been behind my passion for every second of it!  Using the skills I've acquired from private lessons, band performances, and the summer camps offered by Join The Band, I've been able to increase my skill as a musician in a way that wouldn't have been possible had I not been exposed to it. The teachers are very helpful…I love it!!

I LOVE Join The Band! They have the most qualified voice/instrumental instructors, all from the best music colleges like Berklee College of Music.
Call us today or drop by our Sherman Oaks studio and you will see why families trust us more than any other music school
We opened as a small studio in 1998. Since that time we have taught thousands of music lessons and rock band classes. As a result, Join The Band has become a trusted music program in the community of Sherman Oaks. We also serve the Los Angeles communities of Encino, Studio City, Van Nuys, Toluca Lake, North Hollywood and Valley Village. 
Play Music 
Make Friends
Have A Blast!
There's nothing more fun than taking music lessons and playing in a real band! We'll connect you with other musicians, help you rehearse and let you show it all off at our famous Join the Band® Concerts.
Join the Band Music Lessons & Band Classes featured in "Play" by Dave Grohl.
"The first part of  "Play" focuses on behind-the-scenes preparation for the performance. The film is intercut with young musicians from the Join The Band music school in the San Fernando Valley working to get it right. And in Grohl's words, 'just like any kid, the reward is just to Play.' "