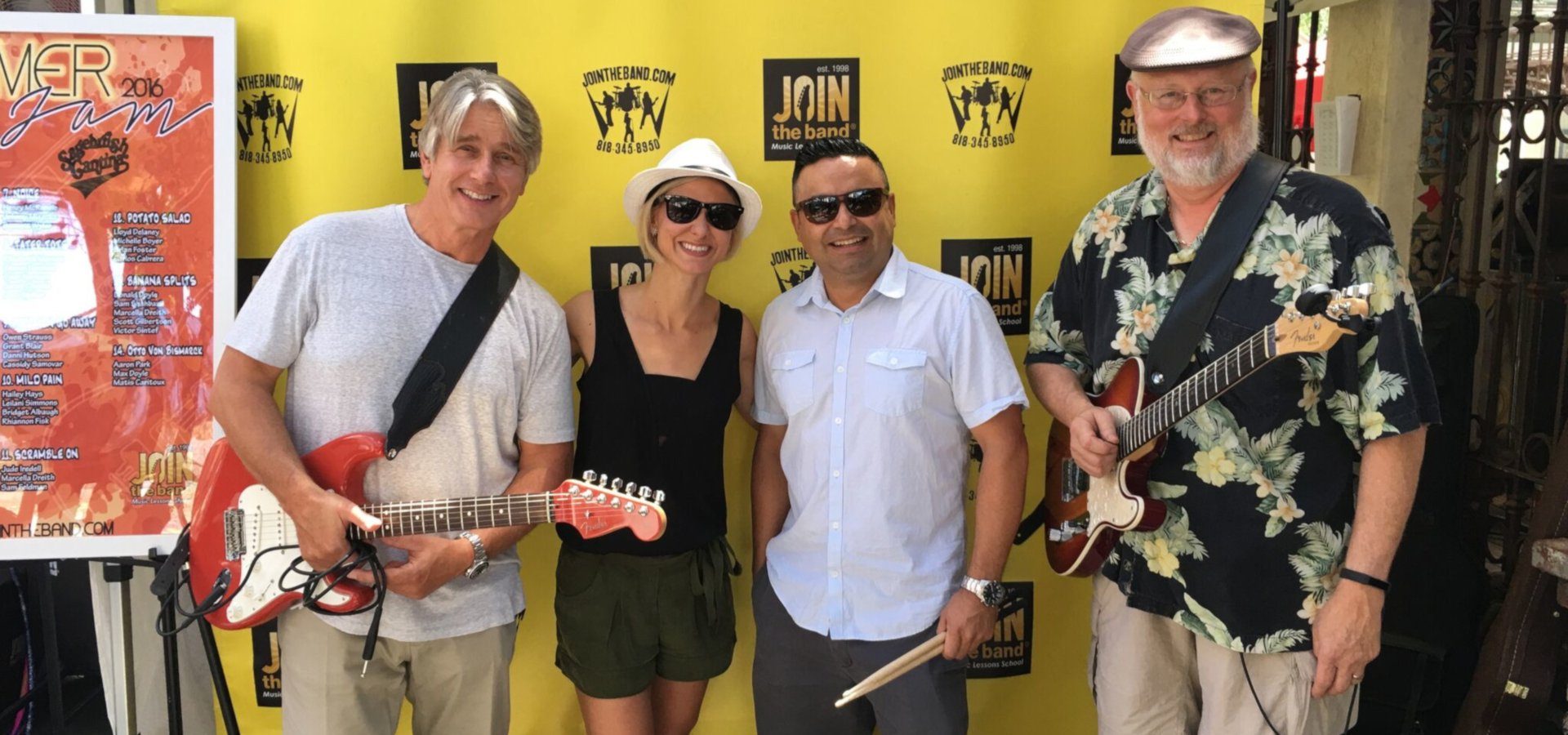 Bands for Adults
How do the adult bands work at Join The Band?
Join The Band® offers an easy and comfortable way for adult musicians of all ages and skill levels to join a band and start performing. Whether you are a beginner, intermediate or advanced student, Join The Band can also place you with the right private music teacher for your needs.
Adult Bands at Join The Band
At our Sherman Oaks / Los Angeles studio we have adult music lessons and adult bands for guitar, drums, piano, keyboards, bass guitar, voice and more at our studios. Maybe you've played in bands before, but had to put that part of your life on hold for career or family. Perhaps you just don't know anyone you can play with. Musicians in the adult bands at Join The Band® are placed with other musicians of similar skill level and music style preferences.
Our adult bands learn and perform a wide variety of music from classic rock, blues, jazz, metal, country and more.
What are the benefits for the adult bands at Join The Band?
Our Sherman Oaks rehearsal environment is welcoming and supportive. The idea is to have fun, get better, and most importantly, to keep that inner rocker alive in you! You and your band will rehearse in our professional Join The Band studio under the guidance of a professional musician and experienced music teacher. All the equipment is at the studio. You do not need to shlep your gear to rehearsals. Drums, amps, PA, microphones are at the studio waiting for you. The rehearsals are efficiently run by our qualified JTB Band Leaders.
All you have to do is practice and show up to play. Then, you get to show off the results of all your practice at a real gig, in front of a packed house at one of our famous Join The Band® Concerts. "Join The Band"  adult bands regularly perform at popular Los Angeles music venues like The Mint, Federal and Roxy Theater.
Our adult bands perform year round. Call today and ROCK tomorrow! 818-345-8950.
We are located at 5928 Van Nuys Blvd, in the Sherman Oaks community of Los Angeles.
What are band members saying about being in the adult band program at Join The Band?
"The program at Join the Band is amazing. There is so much talent at this place. It is very structured with enough flexibility to have a great time. I love this place!"
"I've been participating in the adult program at Join The Band since 2009. I've had a wonderful experience and have improved much as a musician. Join The Band also has a great youth program and is a great place for a young musician to gain experience working with other young musicians and performing with a band on a major music venue stage. All their band leaders are fantastic musicians and they have a great teaching staff."
"Join the Band is the best thing that has every happened to my family! My husband and I both play in a band. Tuesday night has become a built-in "date night!" Both my sons have participated in the band program, as well. It teaches the kids how to work in a group and to work toward a common goal. Fantastic group skills training and self confidence booster! All the teachers and band leaders are friendly, welcoming, enthusiastic, and FUN!!!!"
Your teacher (Band Leader) will guide you through our proven Join The Band System. No matter if you're rusty or you've still got your chops.
1. Learn to play well with others.
2. Improvising and playing solos.
3. Reading charts.
4. How to get the right sound.
5. Practice and rehearsal techniques.
6. Performing in Front of a Live Audience!
Call Today & Rock Tomorrow!
4 Ways for you to have the Best Rock Band Experience
Join a rock band program that limits each band size.
Choose an adult rock band program that schedules age appropriate bands.
Play in a rock band program with experienced music teachers.
Choose a reputable adult bands program with a fun & professional studio environment.
Note: We also feature Blues, Jazz, Country bands and more.