Summer Music Camp Calendar, FAQs and Tuition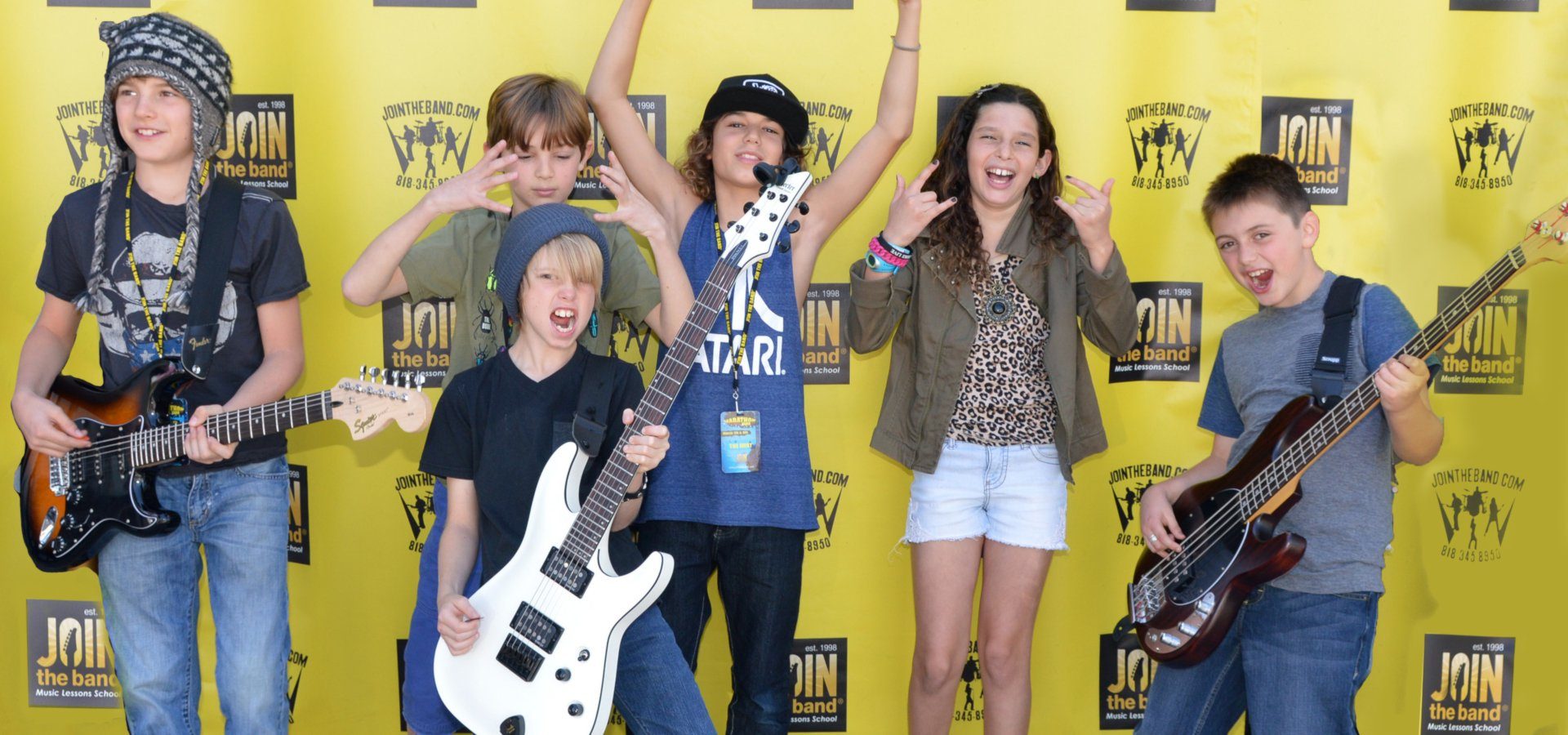 Rock Your Summer at Join the Band
How Do I Request My Camps?
When do the music camps meet?
All of our music camps meet Monday – Friday throughout the summer.
We have 1 week, 2 week and 3 week camp options.
Please pick from 1, 2, or 3 week options.
You do not need to sign up for consecutive weeks for the 2 & 3 week tuition discounts.
What are the camp hours?
Drop off time for all camps is between 9am and 9:30am.
Parents: You must sign your child in before leaving the studio.
All camps meet from 9am to 2pm.
Advance camps meet from 9am to 3pm.
Kids can stay after camp until 3pm for an additional $30 per child.
What is the tuition for the camps?
All camps are $449 for one week.
Deposit of $100 per camp to hold your camp week(s). No refunds on deposits.
2 week camp option is $424 per week. Save $50! Discount applied 2nd week.
3 week camp option is $419 per week. Save $90! Discount applied 2nd & 3rd week.
Advance camps (9am-3pm) are $549 for the week.
What should I bring to camp?
Pack a lunch and any personal items including any medications you need for the day.
Friday is pizza day. We bring pizza in for the kids.
We have water and juice boxes at the studio.
What is a typical camp day like?
Drop off time is between 9am and 9:30am. There is a break every hour and a 30 minute lunch break.
During the day you work on various music skills depending on your camp type and collaborate with other campers.
Will the kids perform?
Most bands will perform Friday after lunch. Times will be announced.
1 Week Camp Dates:
$449 per week
1 Week Camp Dates:

INTRO TO MUSIC:

June – 10th, 17th, & 24th
July – 1st, 8th, 15th, 22nd, & 29th
August – 5th & 12th
ROCK BAND:
Every week over the summer – see calendar above.

June – 10th, 17th, & 24th
July – 1st, 8th, 15th, 22nd, & 29th
August – 5th & 12th
SONGWRITING:
June, 17th
July, 15th
August 5th
SINGERS PERFORMANCE CAMP:
June 10th &
July 8th
RECORDING:
June, 24th &
July, 22rd
DRUMS & PERCUSSION INTENSIVE:
June, 24th

DRUM LINE INTENSIVE:
July, 22nd &
July, 29th
RAP & HIP HOP:
June 10th &
July 1st

2 Week Camp Dates:
$424 per week
2 Week Camp Dates:

Any 2 weeks over the summer.

Suggested Examples Below:
SONGWRITING or ROCK BAND: June, 17th
RECORDING – June, 24th
SONGWRITING or ROCK BAND: July, 15th
RECORDING – July, 22nd
DRUM LINE INTENSIVE
July, 22nd &
July, 29th
ROCK BAND:
Any 2 weeks over the summer
INTRO TO MUSIC:
Any 2 weeks over the summer
SINGING PERFORMANCE:
Any 2 weeks over the summer
3 Week Camp Dates:
$419 per week
3 Week Camp Dates:
Any 3 weeks over the summer.

Suggested Examples Below:
ROCK BAND: June, 10th
SONGWRITING: June, 17th
MUSIC RECORDING: June, 24th

Rock Band: July 8th
Songwriting: July 15th
Music Recording: July 22rd

ROCK BAND:
Any 3 weeks over the summer
INTRO TO MUSIC:
Any 3 weeks over the summer